HOME > Products > Digital Gauge > LT80/MG80-MA/MG80-CM/MG80-LM
LT80/MG80-MA/MG80-CM/MG80-LM
Digital Gauge

Features
Specifications
Dimensions
Manual
Operating manual
Catalog
Features
LT80 Clear and easy to use HMI functions
7-inch touch screen LCD display
Multiple measurement modes (current value, MIN, MAX P-P, ADD/SUB.) Can be used for defective part identification, trend management, part sorting and tolerance judgement by using 2 or 4 state comparator function
Displays I/O status
Three data storage and parameter setting options (SD card, USB, and Ethernet)
Multiligual support (Japanese, English, German)
MG80 Expandable multi-axis measurement module system
Connect up to 32 Magnescale DK- or DT-series gauges (via MT adaptor)
DIN rail mount for easy installation (MG80 and LZ80)
High speed latch (via MG80-LM latch module)

-Synchronized angle and position measurement is available*1 by connecting a linear or rotary encoder*2
*1 16 axes max.
*2 Requires A/B Quadrature encoder signal (EIA-422 compliant).
-Latching data with specific angles or distances can be saved to the LT80.
LZ80 I/O module
Equipped with 8 inputs and 8 outputs
Functions can be assigned freely from LT80
Up to two MG80 I/O modules can be connected to one MG80-MA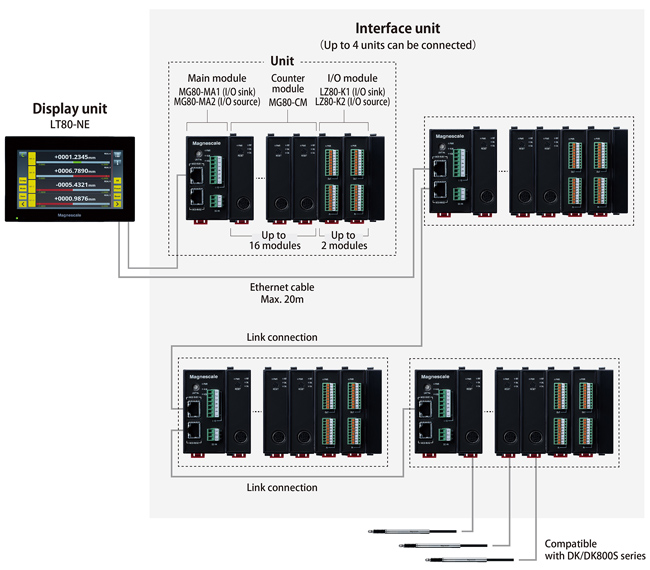 Specifications
Display unit
Model
LT80-NE
Power consumption
14W or less
Maximum connectable units
4 units of MG80-MA*1
Measurement screen
Measurement display
Display measurement values of 2, 4, 6, 8 or 16 channels, Alarm display, Comparator group, Measurement mode, Measurement bar graph, Reset, Preset
I/O information
I/O condition monitoring (All I/O of display unit and main module)
Setting menu
Measuring unit setting
Resolution, direction, with or without reference point connected to MG80-CM
Display setting
Set number of channels to display: 2, 4, 8 or 16 channels
Measurement mode
Measurement mode setting of each channel (current, MAX, MIN, P-P)
Comparator value setting
8 groups with 2 stages, or 8 groups with 4 stages per channel Default setting of each CH
I/O setting
I/O function assignments of LT80-NE, I/O function assignments of connected LZ80-K, Reference point detection, Reset, Preset, Comparator output, Alarm, Reference point passed, Each channel address, Change measurement mode
Calculation
Maximum of 16 combinations of add/subtract calculations per MG80-MA module
Maintenance display
Main body information, Service usage (Software update for LT80 and MG80)
General I/O
Photo coupler insulated 4 inputs and 4 outputs (functions set on main unit)
Interface connector
For control: RJ45x1 (shielding compatible)
For data: RJ45x2 (shielding compatible)
SD card slot x 1, USB A connector x 1
Power input connector
Terminal block x 1 (3 poles), DC jack (EIAJ4) x 1

*1 When using LINK function of MG80-MA dedicated port and MG80-MA
Main module
Model
MG80-MA1/MG80-MA2
Power consumption
2.4W or less
Maximum connectable units
16 MG80-CM units, 2 LZ80-K units*1
I/O
7-pole connector Photo coupler insulated 4 input, 1 output
MG80-MA1: Current sinking type
MG80-MA2: Current source type
Interface connector
For data: RJ45 x 2 (sheilding compatible)
Communication protocol
100BASE-TX
Transmission speed
100 Mbit/s
Maximum cable length
20m (CAT5e shielding type recommended*2)
Setting menu
Rotary switch for setting unit number

*1 Per each MG80-MA1/MA2. Total system maximum: 4 MG80-MA1/MA2 units, 32 MG80-CM units, 8 LZ80-K units.
*2 The customer must provide the communication cables.
Counter module
Model
MG80-CM
Power consumption
2.0W or less (Measuring unit excluded)
Compatible measuring units
DK series, DT series (via MT)
Alarm
Frequency response exceeded, Measuring unit not connected, Cable breakage
Latch module
Model
MG80-LM
Data refresh rates
100µs (measured data acquisition only)
400µs (Applies to all functions such as reference point, calculations, comparator function, Max, Min and P-P)
Power consumption
2.0W or less (Encoder excluded)
Encoder signal input
A/B/Z (reference point)
Voltage differential line receiver (EIA-422 compliant)
A / B signal input minimum phase difference
50ns
Power supply for connected encoder
DC5V 500mA (Max)
Alarm
Input response frequency exceeded, encoder not connected, Cable breakage
I/O module
Model
LZ80-K1/LZ80-K2
Power consumption
2.0W or less
I/O
9-pole connector × 2 Photo coupler insulated 8 input, 8 output
LZ80-K1: Current Sink
LZ80-K2: Current Source
LT80/MG80/LZ80
Supply voltage
DC10.8~26.4V
Operating temperature/humidity range
0 to +50℃ (No condensation)
Storage temperature/humidity range
−20 to +60℃ (20 to 90%RH)

*Please refer to the LT80 operation manual (Ver 1.04.00 or later) for details on the functions.

Magnescale reserves the right to change product specifications without prior notice.
Dimensions
*Please contact our sales department.
Catalog
| | | |
| --- | --- | --- |
| LT80/MG80 Series | Japanese | |
| LT80/MG80 Series | English | |
| LT80/MG80 Series | Deutsch | |
*Please contact our sales department.

What's Digital Gauge?