November 14, 2016
SPS IPC Drives2016 Exhibition
November 22-24, 2-16, at Nürnberg Messe (Germany)
Hall 3 A-268
Magnescale Co., Ltd. is proud to announce that we will be exhibiting at the SPS IPC Drives2016 at Nürnberg Messe (Germany) from November 22nd to 24th, 2016.
We will introduce our new SmartSCALE lineup which achieves 5nm resolution as well as our digital gauges with high-speed data acquisition modules featuring popular fieldbus interfaces.
We look forward to welcoming you.
Outline
Date
9:00~18:00 on November 22 (Tue)- 23 (Wed), 2016
9:00~17:00 on November 24 (Thu), 2016
Venue
Nürnberg Messe Hall3 A-268, Germany
Space
33m2
SPS IPC Drives official website
https://www.mesago.de/en/SPS/
Main Exhibits
SmartSCALE

We will present our next generation of Magnescale linear encoders featuring new technology that ensures high reliability, even in the harshest environments (coolants, oil, water, sludge, or metal chips) without the need for an air purge system.
Magnescale

Linear/Rotary feedback encoders compatible with communication protocols from various controller manufacturers.
Extended line up of "Tough Sensor" products

Our new MG70/71 series of network interface units allows for high-speed data acquisitions through a variety of popular fieldbus networks, such as EtherNet/IP, PROFINET, EtherCAT and CC-Link.
Digital gauges

Slim type "DK800S/DF800S" series offering high rigidity and accuracy, without the need for calibration.
Main Products Exhibited
Products name
Type of device exhibited
Magnescale
SmartSCALE
IP67, no air purge required, high resolution (5nm), non-contact scale with few mechanical components
Absolute Linear/Rotary Magnescale
Absolute linear/rotary encoders featuring a magnetic detection principle that is resistant to shock, vibration, and thermal expansion.
Digital Gauge
Digital gauges featuring 1µm accuracy and tested to 130 million cycles. New digital technology also supports major fieldbus data protocols, Industry 4.0 and IoT network systems.
Booth image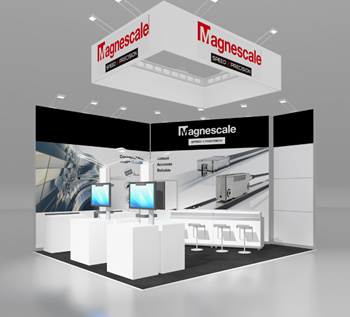 For more information contact the President's Office at info-mgs@magnescale.com