March 3, 2016
CONTROL 2016 Exhibition
On April 26-29, 2016 Messe Stuttgart, Germany
Hall 1 Stand 1516
Magnescale Co., Ltd. will be exhibiting at "Control 2016": International Trade Show for Quality Assurance (in Stuttgart, Germany), which takes place over a four-day period from April. 26th to. 29th.
Our extended line up of Digital Gauges which include open network interfaces, as well as demonstrations of products for environmental resistance will be presented in our booth. Also, a demonstration of environmental resistance by our newly released SmartSCALE linear encoder, which performs to 5nm resolution without the necessity of air-purge systems, will be provided.
We are looking forward to your visit and working with you in the future.
Outline
Date
9:00~17:00 on April. 26(Tue)-28(Thu), 2016
9:00~16:00 on April 29(Fri), 2016
Venue
Messe Stuttgart Hall1-Stand 1516, Germany
Space
50m2
CONTROL 2016 Official website
http://www.control-messe.de/en/control/
Main Exhibits
Extended line up of Tough Sensor series Digital Gauge Systems
Open network unit "MG50c series allows data acquisitions through various fieldbus networks
Interpolator "MT20" for use with conventional DT series Digital Gauges.
Compact sized digital tolerance (go/no-go) indicator "MF10"
Digital Gauge
Slim type "DK800S/DF800S" series offering high rigidity and accuracy
SmartSCALE
The new line of advanced technology linear encoder with IP67 protection rating which offers stable operation even in the harshest environments (coolants, oil, water, sludge, or metal chips) without the necessity of an air-purge system
Magnescale
Linear/Rotary feedback encoders compatible with communication protocols from various controller manufacturers
Main Products Exhibited
Products name
Model
Digital Gauge
Introduces the line-up of high accuracy Digital Gauges featuring advantage of durability, robustness, and smoothness of spindle motion in a slim compact design with the performance of digital technology this also supports for industry 4.0, IoT network systems.
Laserscale
Featuring the line-up of ultra-high accuracy Laserscale and 2D Laserscale that can achieve extremely high resolution and precise positioning while maintaining highly stable measurement.
Magnescale
SmartSCALE
IP67 no air-purge required, high resolution (5nm), open type scale with less mechanical components
Linear absolute
Magnescale
Featuring the line-up of linear absolute encoder of magnetic detection principle which work well against shock, vibration, thermal change.
Digiruler
Features the lineup of Digiruler which offers non-contact detection and a long measure range
Booth image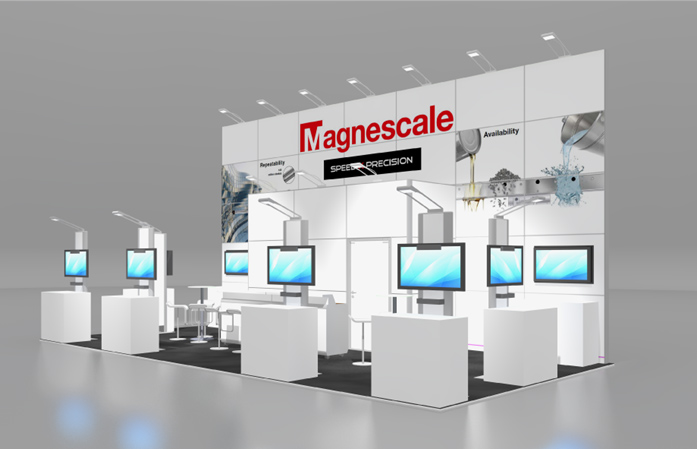 For more information, contact the President's Office at info-mgs@magnescale.com