Dec. 9th, 2015
SEMICON Japan 2015 Exhibition
On Dec. 16th – 18th, 2015 in Tokyo Big Sight
East Hall 5 5029
Magnescale Co., Ltd. will be exhibiting at SEMICON Japan 2015 from Dec. 16th to 18th.
Visitors will see a newly developed high-resolution non-contact displacement sensor "BN100", demonstrations of nanometer-level control technology, rotary encoder systems, long travel high accuracy Laserscale systems, as well as the new SmartSCALE lineup which achieves 5nm resolution and is sealed thus enabling stable operation without air-purging.
We are looking forward to your visit and working with you in the future.
Outline
Main Exhibits
Ultra high accuracy, high resolution Laserscale "BS78 series" leading the next generation of nano technology.
Laserscale "BH25" with 2,400mm maximum measurement length
Z sensor "BN100" for high accuracy flatness measurement
Demonstrations of nanometer control technology using the highly precise Laserscale and non-contact linear encoders.
SmartSCALE
Our new SmartSCALE features a sealed design which protects against dust and liquid contaminants (IP67), and can be operated without air-purging. It offers high resistance to coolant/water splashing, sludge, or metal chips, and provides stable operation under harsh environments.
Main products exhibited
Product name
Type of device exhibited
Laserscale
A new higher resolution Laserscale model is available reaching 8pm resolution and 2.4m measuring length. Demonstrations of nanometer-level control technology with ultra-high resolution, and non-contact displacement. Auto-compensating 2D Laserscale and ultra-high resolution non-contact displacement sensors will also be shown.
Magnescale
SmartSCALE
Magnescale launched a sealed, best-in-class 5nm resolution encoder that does not require air purging (IP67). This design provides a compact, non-contact encoder that reduces many mechanical elements.
Booth image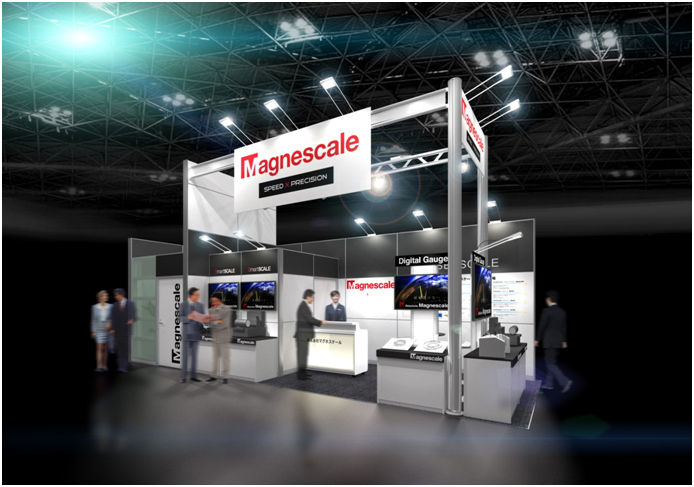 For more information, contact the president office at info-mgs@magnescale.com