Oct. 1st, 2015
MECT 2015 Exhibition
(MECHATRONIC TECHNOLOGY JAPAN 2015)
On Oct. 21st - 24th, 2015 Port Messe Nagoya
Building No. 2 A12
Magnescale Co., Ltd. will be exhibiting at "MECT 2015", which takes place over a four-day period from Oct. 21-24. Visitors to our booth can see the all new SmartSCALE lineup which achieves 5nm resolution as well as our high durability and high accuracy digital gauges and Laserscale lineup with the highest resolution in the world. We are very much looking forward to welcoming you.
Outline
Date
10:00 -17:00 on Oct. 21(Wed) and 22(Thu)
10:00-19:00 on Oct. 23(Fri)
10:00-16:00 on Oct. 24(Sat)
Venue
Port Messe Nagoya

Building 2 A12

Space
90m2
MECT 2015 official website
http://mect-japan.com/2015/en/
Main Exhibits
New :『SmartSCALE』

The sealed structure of our new SmartSCALE is IP67 rated which protects against dust and water and is stably operated without air-purging. It offers high resistance to coolant/water splashing and to sludge or metal chips and provides stable operation under harsh environments.

Magnescale
Magnescale encoders that are resistant to harsh environment
Geared detection type ring encoder
Digital Gauge
"DK800S/DF800S Series" with high-rigidity, high-precision and an extremely compact body
Network unit "MG50 series" that allows data acquisition through various fieldbus networks
Laserscale
New Laserscale lineup leading the next generation of nano technology that provides ultra-accuracy and ultra-resolution
Main Products Exhibited
Products name
Type of device exhibited
Magnescale
(NEW) SmartSCALE
Magnescale launched best in class 5nm resolution Magnescale with IP67 rating that does not require air purging. Provides a compact & open type scale which decrease mechanism elements.
Linear absolute Magnescale
Magnescale magnetic scale lineup which employs a magnetic detection principle that is resistant to the effect of condensation, shock, vibration and temperature change.
(NEW) Geared type ring encoder
Geared type ring encoder that detects the angle position of motors with high response. This can be operated in harsh environments with operation temperature up to 100 degrees and highly protected against dust and water.
Rotary Magnescale
Magnescale Rotary Magnescale lineup including an easy to install small unit type and easy handling hollow shaft open type.
Digital Gauge
Magnescale high accuracy, high durability and slim digital gauge lineup. We offer network supporting products for IoT systems.
Laserscale
The Laserscale achieved 8pm resolution has new model which higher resolution and 2.4m length encoder. Self-compensating 2D Laserscale and ultra-high resolution non-contact displacement sensor will be exhibited.
Booth image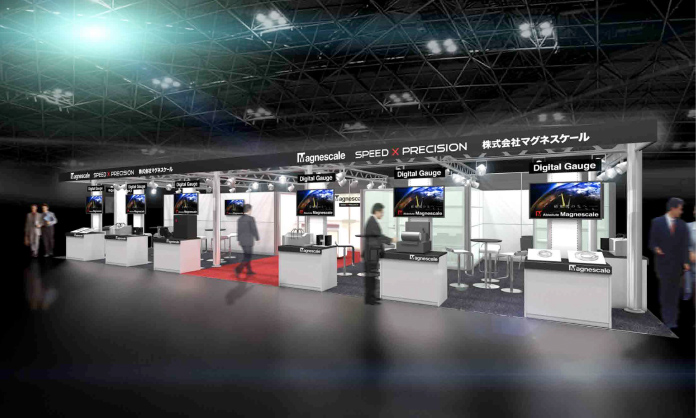 For more information, contact the president office at info-mgs@magnescale.com