Aug. 28, 2014
AMB 2014 Exhibition
September 16-20, 2014 in Messe Stuttgart, Germany
Hall 4 E 50
Magnescale Co., Ltd. will be exhibiting at "AMB 2014", which takes place over 5 days from Sep. 16th - 20th.
Visitors to our booth will see a Magnescale which is highly resistant to harsh environment for machine tool, and new lineup of digital gauges. We are very much looking forward to welcoming you.
Outline
Date
9:00-18:00 on Sep. 16th (Tue) -19th (Fri)
9:00-17:00 on Sep. 20th (Sat)
Venue
Messe Stuttgart Hall 4 E 50, Germany
Space
40m2
AMB 2014 Official website
http://www.messe-stuttgart.de/en/amb/
Main Exhibits
Launch new product: high resolution absolute Magnescale

We will launch our high resolution models of Magnescale
New product:Gear detection type rotary encoder

We will launch our sensor head which can detect gear teeth. This new product is highly resistant to harsh environments and can be operated at temperature ranges between -10 to 100 degrees. The diameter of the gear can be tailored to the machine specifications.
Enhancement of Tough Sensor lineup:
New network unit "MG50" series enables output data that can be calculated and controlled by PLC via open network.
New interpolator "MG20" for DT series.
Go/No Go judgment unit "MG10" .
Main Products Exhibited
Products name
Model
Magnescale
SR27A
SR67A
RU97
RS97
Gear detection type rotary encoder
RS53 (NEW)
Digital Gauge System
MG50-EC(NEW)
MG50-CL(NEW)
MG51(NEW)
MT20(NEW)
DF800S
MF10
DK800S Series
DK50N
DT Series
LT Series
MG Series
MG40 Series
Booth image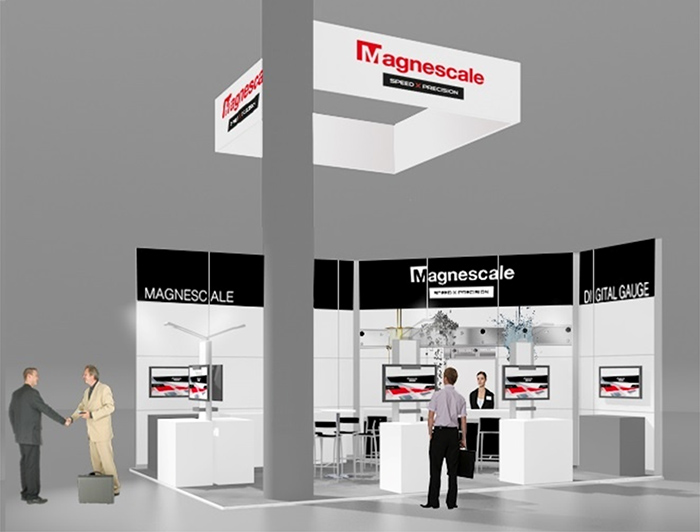 For more information, contact the President's Office at info-mgs@magnescale.com