June 28, 2012
SEMICON West2012 Exhibition
10:00-17:00 on July10-11, 10:00-16:00 on July12, 2012 Moscone Center (San Francisco, USA)
South Hall 813
Magnescale Co., Ltd. will be exhibiting at SEMICON West2012 (San Francisco, USA) which is scheduled to be held for 3 days from July 10 to 12. Our booth will feature new developments which are encoders applicable for 450mm Wafers, non-contact displacement meter with picometer resolution that performs for three-dimensional measurement on high precision stages required for semiconductor manufacturing equipments. As well as the new developments, wide range of other products designed for semiconductor inspection and measurement equipment manufacturers are available. We look forward to seeing you at our booth.
Main Exhibits
Long travel Laserscale applicable for 450 mm Wafers
Non-contact displacement meter at picometer resolution
High resolution, two dimensional Laserscale
Industry leading Line-up of Laserscale for nano technology applications
Demonstration units of the control technology to nanometer level utilizing the highly precise and stable Laserscale and non-contact displacement meter
*In addition to these products, we will also have exhibits in our booth and showcase Laserscale technologies.
Main Products Exhibited
Product name
Model
Laserscale
BF1 (NEW): scale with measuring length 1400 mm
BN100 (NEW): non-contact displacement meter with the highest precision in measuring industry
BE100 (NEW): two dimensional scale
BE10
BS78
BH25
BL57
Booth image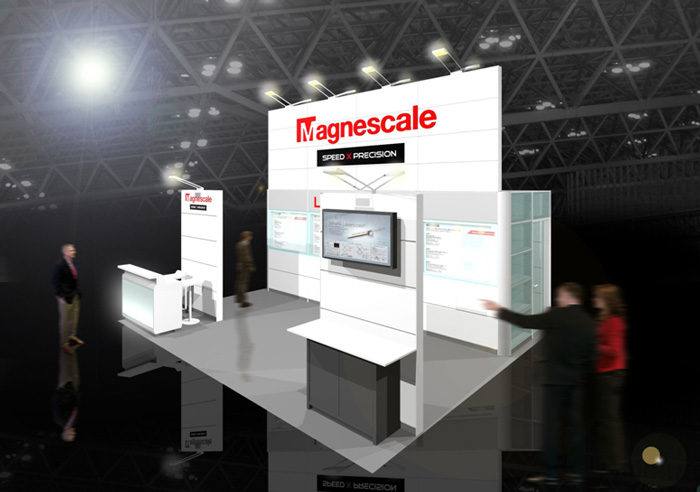 For more information contact the President's Office at info-mgs@magnescale.com